1967
Orchimie, group POLYCHIMIE, was born in Semoy, on an ancient city emergency, for the manufacture of additives for paints and inks, release agents for polyurethanes, mixtures of waxes and additives for rubber.
1972
The site has about thirty employees. Construction of the workshops, AD2 and AD6, for paint additives, and overprint varnishes, in AD5.
1984
Construction of the workshop, AD7, for industrial adhesives and overprint varnishes.
1987-88
Start-up of rubber-to-metal adhesives activity. Construction of the workshop AD8, for Staple adhesives.
1997
New manufacturing capability : stabilizers for PVC.
1998
Construction of new storage tanks, above ground.
1999
Acquisition by ROHM AND HAAS.
2001
Acquisition of the Chemetall rubber-to-metal adhesives business. Closure of the stabilizer unit for PVC. New, automated manufacturing equipment, for ink additives (unit Votator).
2005-2006
Renovation of both the research and Quality Control laboratories. Obtain ISO/TS 16949 certification for the automotive industry. Transfer of the 'wax-based additives' business. Start of the 'pressure-sensitive additives" business.
2006-2007
Construction of the new warehouse for the storage of nitrocellulose.
2009
Acquisition by DOW CHEMICALS.
2010
Acquisition by ORRION CHEMICALS.
2015
Creation of a show-room/working area for start-ups and VSEs to support them at a key stage in their growth.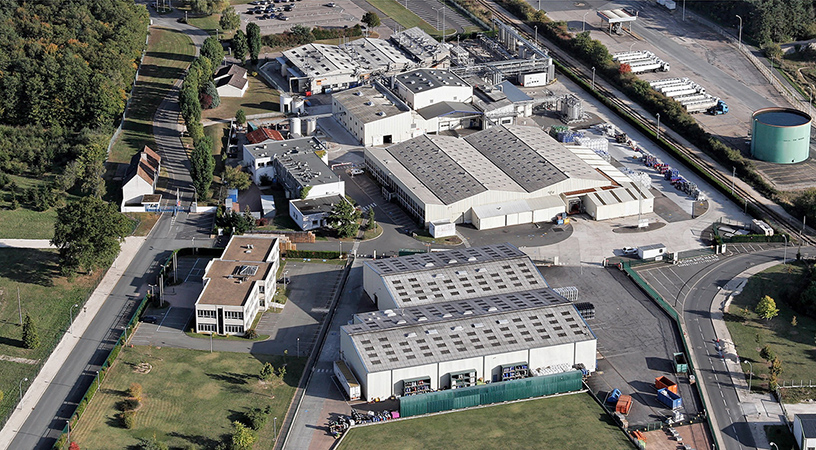 Aerial view of the site